Celebrity beach nudes? Large photo & video collection of Hollywood stars stripping naked in the summer
Best thing about the summer? Sea, sex and sun? Yes, but let's not forget about the large and daily updated sexy celebrity beach photos online. Some hot stars upload naughty cleavage bikini candids by themself, some Hollywood babes got captured on photo by paparazzi while taking a topless dive in the water or tanning at the beach during their well deserved holiday vacation. Seems like beach resorts are the place where all celebs hang out when they have time to relax during the hot summer days. In short, the summer and the beach are the place to be to spot some of the best famous (topless) boobs, nipples (so many nipple slips during the summer) and booty.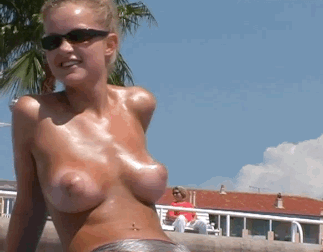 Big titted blonde Helen Skelton in her younger days flaunting her sexy big boobs at the beach...
What to expect? Your summer is about to get even hotter this year just by viewing all these brand new skin revealing (and cock growing) free content. Need examples? Ok, here you go.
Cameron Diaz
in a horny mood almost banging her boyfriend in the beach water (and yes, she ain't wearing a bikini), exposed nude tits of former teen pop idol
Britney Spears
,
Heidi Klum
,
Monica Bellucci
, super model
Joy Corrigan
, sexy
Emily Ratajkowski
and even
'top of the game'
stars like
Beyonce
amongst many other big A list Hollywood beauties that are added to that list (just scroll down and see for yourself).
In case you really love juggs that come in
HUGE SIZES
... Then you'll must view the ultra hot naked busty beach titties of babes such as Chrissy Teigen or
Kelly Brook
. As a boob lover, you certainly won't regret it!
Staff picked celebrity beach boobs and butts!
Do we have a good taste? We certainly have. Do we have to proof that? We don't have to, but since we are such a fine guys we'll share them with you anyway. For example, just a few days ago we published a blog with some damn sexy
topless beach photos of Charlie Riina, Toni Garrn and Shay Mitchell
.
Because just like you, we also love those sweaty gossip Miami beach candids. Imagine those tiny sweat drops pouring over yhe big delicious round juicy hooters of super model Kate Upton. Quite a turn on indeed. But why imagine if we already posted such horny pictures here for free? Here you go, the staff picks for some of the hottest and sexiest Hollywood babes getting naked in the sun. Just like these famous babes, you girls should all unleash your breasts during the summer... Don't be shy. Drop the bikini, it's summer time!
#freetheboob
.

Paparazzi voyeur photo of Lindsay Lohan having her huge hanging tits exposed topless at the beach. Crack addict or not, these plus size juggs are hot!

The many erotic Chrissy Teigen pics at the beach! Exotic, sweet curved body, a big pair of boobies, and she isn't shying away from flaunting all her goodies in public.

The best beach booty award goes to super model Candice Swanepoel...

Not mentioning Kate Upton in combination with the words 'BOOBS' or 'BEACH' simply isn't an option. So juicy, so squeezable, so heavenly. Meet the perfect celebrititties!